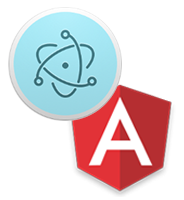 We can use Angular 2 for Electron apps, and in this tutorial, we explore how to get a desktop image size calculator app wired up.
Electron is an open-source project from GitHub that makes it easy to build cross-platform desktop apps using web technologies.
There are, of course, other ways to create desktop applications with web technologies, but Electron is unique in its ability to easily target three operating systems at once.
In this article, we'll explore how to wire up a simple image size calculator app using Electron and Angular 2.
Even though it's in beta, Angular 2 is a great framework to use inside an Electron app and, once everything is set up, works just the same as if we were developing for the web.


Create a Desktop App with Angular 2 and Electron
https://twitter.com/ryanchenkie?lang=en
https://twitter.com/intent/tweet?text=%22When%20distributing%20Electron%20apps,%20generate%20an%20archive%20of%20the%20application%20files%20so%20that%20the%20source%20is%20concealed.%22%20via%20@auth0%20http://auth0.com/blog/create-a-desktop-app-with-angular-2-and-electron/